Packing Supplies You Need When Using a Storage Unit
Published on 6/1/2022
Packing Supplies You Need When Using a Storage Unit
Storing items in units outside your home has become a valuable and practical solution for many families. Storage units help you move houses, make more space in your home, and simply save certain pieces you don't use daily. However, if not packed and organized well, items in a storage unit can get damaged over time. Proper packing techniques and the overall organization of the items will ensure everything stays intact until the moment you want it back into your home. The only question is – what are the packing supplies you need when using a storage unit? This guide will give you all the answers.
Things you should know before storing items in a unit
It's not only about placing items in boxes and placing them in random storage spaces. You should know certain things to maximize the safety and efficiency of this service so you don't waste any time and money. Here's what to remember when renting a storage unit:
Always pick a unit that's in accordance with your needs.

Estimate how much space you'll need

, so you choose a unit accordingly and don't take too much or too little space. Units come in different sizes, so picking what you need is easy.
Opt for a climate-controlled unit to protect wooden furniture, valuables, and electronics. These are often more expensive but will protect your items from deteriorating.
Double-check the facility's safety – you should pick a unit that's not too expensive and far away from your home. Still, the top priority should always be the safety of the facility. Surveillance cameras, alarm systems, safe locks, and lights are ways to be sure you're renting a secure unit.
Always keep the unit clean before placing your items –

disinfect and organize your unit

to protect your belongings.
How to pack everything safely? All the packing supplies you'll need for your storage unit
Now it's time to make a list of packing supplies you need when using a storage unit. Surely, adapt the list depending on the type of items you'll store, but we'll try to cover the essentials.
Inventory list
To gather all the necessary packing supplies for the storage unit, make an inventory list first. Listing all the items you plan to store will help you estimate how many boxes and other things you should get. Also, place the list on the indoor side of the storage unit's door and keep it as a reminder of all the things you possess there. This is quite useful, especially if you opt for long-term storage for your belongings.
Cardboard boxes – different sizes
Boxes are essential packing supplies you need when using a storage unit. Pick cardboard boxes of different sizes, so go for small, medium, and large. This way, you can sort items by size and ensure they are safe and won't break. Pro tip – avoid overpacking the boxes. Even though there's some space left inside a box, don't try to fill every inch of it as it increases the chances of damage. Also, medium and big-sized boxes containing too many heavy items are difficult and dangerous to lift and lead to injuries. Use them for lighter items while packing heavy pieces separately.
Pack boxes so you can easily carry them without risk.
Specialty boxes
Certain items won't fit standard cardboard boxes, so they need a special kind. For electronics, it's best to find their original packaging or a box that fits their size best. Also, get special boxes for documents. If there are some more valuable items, try to get plastic containers with sealed lids for maximum safety. All the boxes you get should be stackable, as it's the best way to organize them in your unit.
Protective materials
Fragile items should be safely protected with air bubble foil, packing paper, or some other protective material. These are also great for cushioning and filling free space in the boxes. Plastic wrap is also great for keeping certain loose items tight and serves as excellent protection from moisture and dust.
Heavy-duty tape
Packing items for storage is not like packing birthday presents. You need heavy-duty tape to seal the boxes and keep things together securely. For easier and faster sealing, use a tape dispenser or a tape gun that also helps not to lose the tape while doing all the packing tasks.
Labeling supplies
You must always know what's inside each box – unless you're using see-through plastic containers. Grab a couple of markers and stickers before you begin the packing process. Label the boxes in the size that will be visible when you enter the unit. Place the boxes so that the labeled side faces the front, and you can easily find the box you're looking for. Stickers can separate boxes by type, room, size, etc. Also, clearly label boxes with fragile items to minimize the chances of accidents.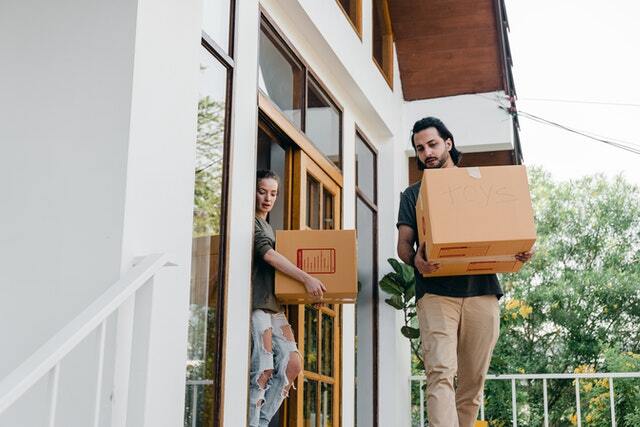 Label the boxes so you can organize them by size and priority.
Dust covers
Simple dust covers are very efficient in protecting large pieces from dust. This is a very important part of packing supplies particularly if you're storing large furniture. As you can't put those in boxes, cover them with a dust cover and ensure they are clean the next time you need them.
Pro tip: when it comes to moving large and bulky furniture, make sure you have a skillful moving team from NYC to assist you. Contact experienced long-distance movers from New York City to help you leave the city with ease and no injuries. Lifting and moving bulky pieces is quite risky – not only for your health but also for the furniture. Contact experts to deal with transporting those items long-distance, as they have all the skills and tools for a totally safe relocation.
Let experts carry out the heavy pieces – you just get a dust cover to protect your items.
Make your storage easily accessible
With all the packing supplies we mentioned, there's one more thing you need to pack your storage unit – some patience and organizational skills. Even when you gather all the packing supplies you need for your storage unit, they mean nothing if you don't use them the right way. Arrange your items so you can easily reach them both in the back and in the front. This will help you get the unit's full potential, and it will be a practical solution for your storage needs.